?????????????
Well what's up December!! It's that time of the year again! And I must say, I am a bit excited! I want to share some fun thangs with you during this holiday! Follow my Instagram for photos and videos: aprildanielle_ 
And then here's my Pinterest Chile: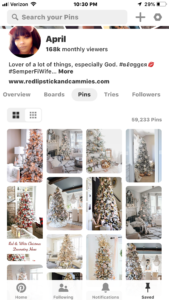 This is Naomi's 3rd Christmas, so ya know, just her alone is everything. ❤️ I'm super excited that she's old enough to understand the Christmas holiday. Boooy is she in the spirit. Every year counts. I thought her first Christmas we went over board. I remember we went home to Virginia. Her 1st year old Christmas was amazing because she was 1. From the time she was born, until now we are still super duper excited about are doll baby's happiness. Every year is different with her. And every year is special. She enjoyed Halloween, Thanksgiving, well Thanksgiving not so much. Ya know, being sick and all. But she's already ready for Santa Clause and Rudolph and his crew. Now, for all my mommies out there, I am so eager to do elf on the shelf. But I think it makes more sense to wait at least one more year. I want her to get the full affects of this fun. Especially if I have to put in all that work! (Haha.) We have all our trees up, three. We have our stockings up and some little bute Christmas decor around and about the house. That's one of my FAVORITE parts about the Christmas holiday. More house decor!!! (Oh Jesus. I know one year You will bless me with a unlimited gift card to Home Goods, Target, and any Dollar Sto. In the name of Jesus.)
Chile! I'm trying to tell you! I'm glad my husband doesn't mind shopping with me, because I will tear a sto up! Especially, one of those three! For those who know me, know I love candles! Love them! It's not a day that it is not a candle burning in my house. Just like we need toilet paper without questioning, i need candles without questioning. The smell, the vibes, I just love candles. So around the Christmas holiday the house really be lit.  Between the Christmas trees lights and the candles. We don't eva need to flip a switch on around here. I love white lights. I use white lights for house decor on any given Sunday. So any reason to hang up more lights is even better for me too!
Ok! So here's juust a few more things I enjoy about the Christmas holiday.
I can continue eating! (Bahaha) Yep. I can carry on from Thanksgiving like it's nothing. I mean, of course I'm not eating after 7 pm. But I crush food during the day. And for me not to have a sweet tooth, I tend to have one around the holidays more than I want to. It's kind of sucky because I have come to terms that I don't like working out. I think I tried to psych myself into thinking that I actually enjoyed working out. Nope! Lies. All lies. It's called, do what ya gotta do. I wanted to loose weight, so I worked my tail off. But I would prefer to click my heels together. So anyways, with all that being said, I start working out December 2nd. Ugh. I'm already dragging. After Vegas I fell off Chile! Thanksgiving made me lazy and then my baby doll was sick. So yeah, we back like we neva left. (Jesus be a fence.)
Now, of course I also enjoy this time of year because I gets gifts. Duh. I ain't about to sit here and act like I don't like receiving gifts just and much as I like giving them. People love me! I get the best gifts!! Around the holidays Naomi and me tend to make lots of gifts for our loved ones. We enjoy it. It was also a easy, fast, and fun way for Naomi to learn her colors and shapes. We be making some bute gifts too Chile. Hang out with us this month. We'll show you a thang or two. 
I also love this time of year…. (Drum roll.) because of the Christmas movies! (They done just about showed them all now. Ha.) My favorite Christmas movie first is, "The Christmas Story." That Christmas movie in particular because it reminds me of my childhood. That's a memory for my brother and me. If he or I ever speak on that Christmas movie, it like means something. In just a little corny way. It's like a family thang! #ChildhoodChristmas #Childhoodmemories My second favorite Christmas movie is, "The Best Man Holiday." Chile. I cry every year. I be boo-hooing. That movie is so sad. But it's also loved filled, framily dramafied, funny as crap, and so black. One of my favorites. And Nia Long looked sexy as eva in that movie with that white boy. So yeah, flaming hot Cheetos, cupcakes, glazed donuts, and ice cream sandwiches be on point with a good movie. Now, on Saturdays, I eat until I pass out. That might be mid-night. (Haha!) There is a few Christmas movies that bore me though, I just eat and fall asleep to those ones. Well, you know what. I'm not even gonna lie. I fall asleep to most Christmas movies. Christmas movies are mostly boring to me. Is that bad? 
Okay.
My next favorite thang about the Christmas holiday iiiiiissssss…..I love playing my Christmas music! You know I love music. Well, if you didn't know, I love me some music! ? (Haha.) Not a single day goes by that there isn't music playing in my house, true story! I cook with music playing, AND YOU ALREADY KNOW THE SHOWER IS THE STUDIO. I listen to music when I'm on the phone, blogging, and sometimes when I'm wayching TV. I reckon my husband says I'm always loud. This is a music house hold! Naomi knows music that is triple her age. We be jamming. Our dance parties be lit. So, this is my Christmas playlist for sure, for sure. 'The Jackson Five Christmas' (Hands down!) The Temptations Christmas album and 'This is Christmas' with Luther Vandross! Those three right there, my brother and me grew up on. I bet it ain't a lyric he don't know in the The Jackson Five Christmas album either. "THE JACKSON FIVE! OH NAH, NAH, NAH, NAH! WANTS TO WISH EVERY-BODY. A MERRY MERRY CHRISTMAS." Matter of fact. I'm about to play that right now!! Michael said he saw Mommy kissing Santa Clause. "And I'm gonna tell my Daddy." (RiP MJ.) Who knows what I'm talking about??! Please tell me you know about, 'The Jackson Five Christmas' album??!!
? LAST, BUT CERTAINLY NOT LEAST!! I LOVE, Love, love just being with my family. Even being far away from home, family and friends. I'm thankful for phones and other technical devices that can still make moments special. Some people don't even have the opportunity to get a phone call. If ya know what I mean. So yeah, I'm thankful for Love & Life. Health & happiness. And I am so grateful to have togetherness! Thank you Jesus! Seriously!! I remember when my brother & me were kids, and my parents would tell us to tell Jesus happy birthday right before we would open our gifts in the morning. So yeah, it's CHRISTmas ova here. (Haha) Ain't no ❌-Mas round here!! 
** I pray for all the families who have loved and who have lost and won't be spending time with the ones they love this holiday. For whatever reason it may be. I pray for those who grieve. I pray for the ones who don't have enough for the holiday. I pray for those who are sick and shut in or sick and shut out. In Jesus name I sincerely pray, amen. ** Pray for people. Never feel as if your aren't doing anything unless you aren't praying. If you're praying, then you're doing everything. Neva sleep on steadfast, unwavering prayer. I'm Just Saying…
Merry Christmas!
χσχσ.
#ʝσиєѕιиgтнιѕ¢няιѕтмαѕ.
?