LISTEN!
No, listen for real!! This is a need more than a want!
Whatever that IT is that occurred today. We fitna wash IT off! And I'm going to break IT down for you right now! Whether IT be a person, place, or thang that done ticked you off, pissed you off, caused confusion, chaos, and up roar in ya day. We fitna wash IT off!
I need you to listen to understand me now! Do more than just hear me, mmk??…Mmk!! Lets get IT.
Strip down butt bald naked. As you're taking your clothes off. Imagine that those clothes coming off of you are everything you want to take off from your day! The stress, the strain, whateva. Take IT off! Peel the pain, the hurt, the sorrow, frustration, confusion, etc off! Whatever IT is that you want to get rid of from today! Lets start with your clothes! Come on. Lets get IT! Now, get your butt in the shower. I'm fitna to teach you how to have peace in the lesser things! God is everywhere! Now listen! Stay focused now! Make the water as hot as you can stand IT. While the water is getting where you need IT to be! Get that playlist right! Now, the music isn't a must. However, I'm a professional shower singer, and music feeds my soul, so. Right along with the word of God. But if you want IT to be quiet, so be IT. I understand. Quiet can be good. Shoot! Quiet can be real good matter of fact! Shoot, quiet is what a lot of people need! Shut the noise out! Folks be having all types of rift raft in their lives for no reason at all! You needs to hop in the shower Chile!
Now, get ya naked tail in the shower! Make sure that water ain't too hot now! I ain't fitting to be responsible for burnt tail!
Tears are liquid prayers! So if you have to just stand there and let that water rain down on you while you cry. THEN LET IT! Let your guard down! Pour your heart out to God!! Some folk hold stuff in sooo much that they boiling over, HOT! Woo-wee Chile, it's a fire, it's a fire! We fitting to release this beast here and now! We fitting to wash IT off tonight!!! I want you to cry out without being ashamed, embarrassed, or insecure about your feelings! Not talking isn't going to make it go away. Not speaking up or out about how you feel, won't make it better. So, let's start by being honest with self! Do not allow your thoughts that are unspoken to handicap you! Don't let your pain become building blocks in your mind. You're entitled to how you feel! Whether people get IT or not! Don't shun how you feel to protect someone else's feelings! You have to live with yourself first and foremost!! All be dog on if I allow someone else's dysfunctions rattle my brain! God is not the author of confusion. MmK!!
I think it's important to shower at night. Not to just clean your body, but to cleanse ya soul. It's a must to shower before bed. My nightly routine is a must. I think that's why I love being at home, in my own place, and space. Ya know, you can't do you when you at other folks house.
Whatever the day may bring, try and not go to bed with a heavy heart or a weighed down mind. You need rest just as much as you need sleep. There's a difference. Folks be waking up tired from a eight hour slumber, because they're getting sleep and not rest.
🚿🚿🚿🚿🚿🚿🚿🚿🚿🚿🚿🚿🚿🚿🚿🚿🚿🚿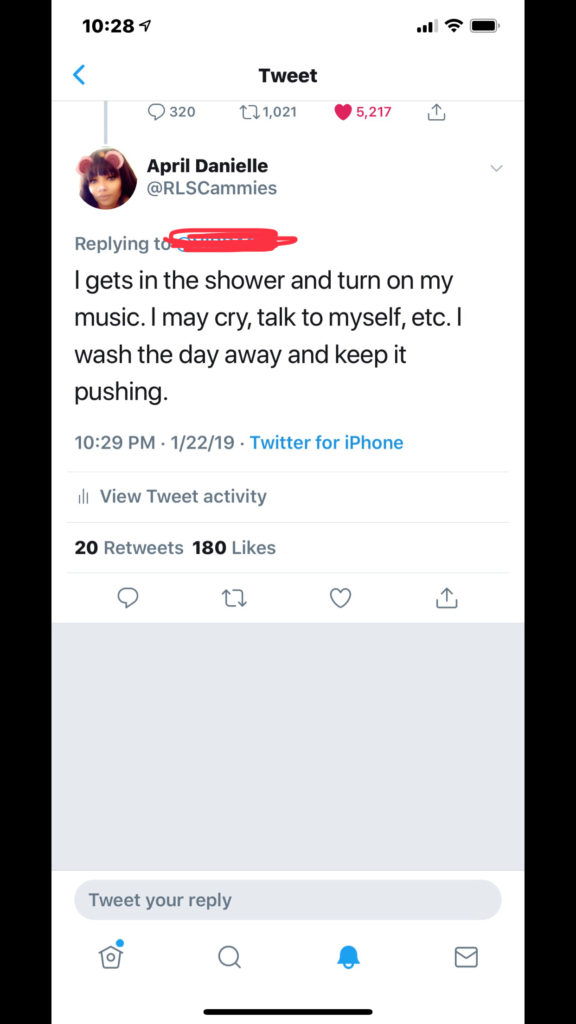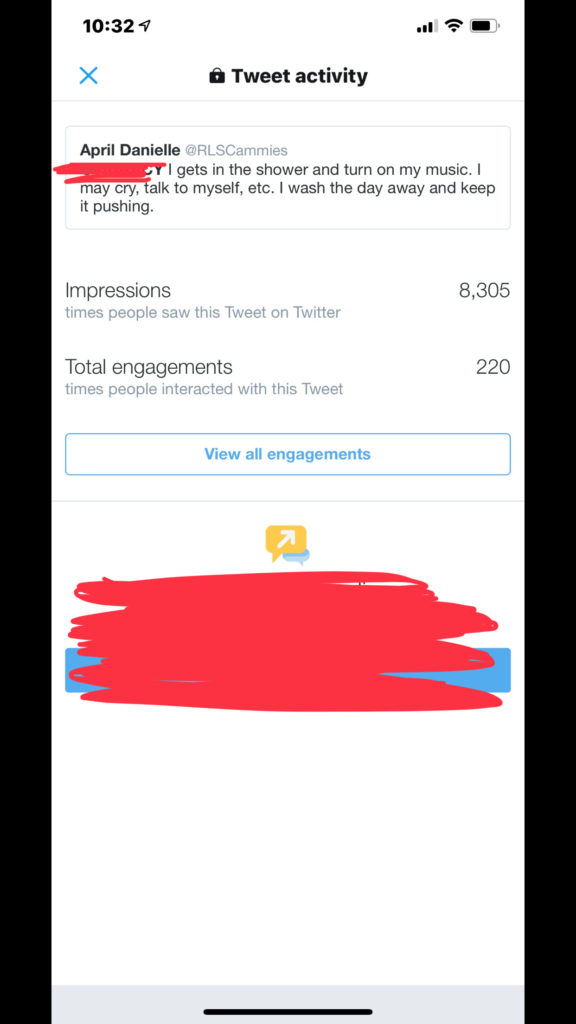 Let the water beat your skin while you repeat affirmations to yourself! You probably spent all day trying to be kind, or being kind to people. But you completely neglected yourself. And that my friend, ain't right.
I'm Just Saying…
ιтѕ gσιиg тσ вє αℓяιgнт! ιтѕ ʝυѕт тнє ωαу нє ρℓαииє∂ ιт.
χσχσ.
💋